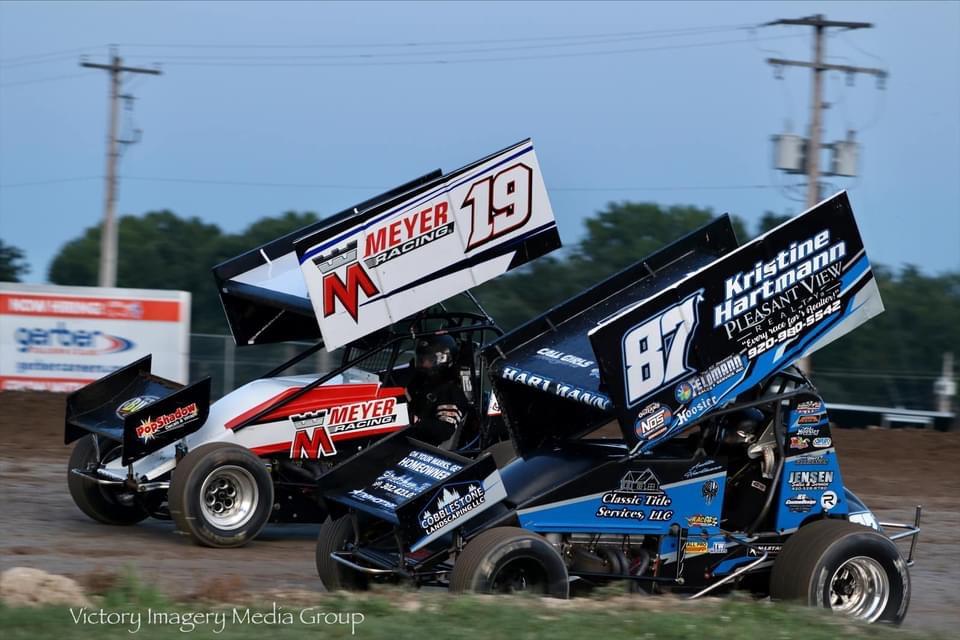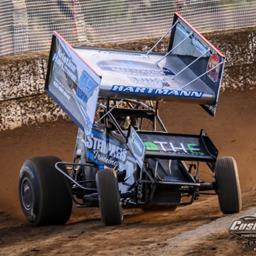 ---
Austin Hartmann bags first IRA heat race win, salvages 16th in Wilmot Founders Night headliner
(PEDAL DOWN PROMOTIONS) August 31, 2022 – On a night when the Bumper to Bumper Interstate Racing Association 410 Sprint Car Series remembered the individuals who played a role in founding the IRA at Wilmot Raceway in Wilmot, Wis. in the mid-1960s, IRA rookie Austin Hartmann and the members of the 87A Hartmann Racing team forged their own racing memories during the IRA Founders Night program at Wilmot Raceway on Saturday, Aug. 27.
Hartmann's evening featured his first IRA victory in heat race competition, as well as his fourth IRA dash appearance of the 2022 campaign. However, it also saw an unfortunate incident halt the possibility of attaining a career-best run in the 25-lap IRA main event.
The third-year Sprint Car racer opened the night by qualifying 11th in the 27-car field with a lap of 13.664 seconds. After starting on the pole of the second eight-lap IRA heat race, Hartmann bolted into the lead on the drop of the green flag and endured at caution flag on lap 5 to hold off Blake Nimee and secure his first-career IRA heat race triumph.
The heat race victory locked Hartmann into his fourth IRA dash of the 2022 season where he finished fifth after starting fourth in the second four-lap dash event to earn the 10th starting spot in the 25-lap IRA Founder's Night main event.
After a lengthy delay and an opening red flag period when Scotty Neitzel made hard contact with the turn three wall on the initial start, Hartmann ended up rolling off eighth when the race got under way.
On lap 3, Hartmann worked his way past Todd Daun to take seventh. However, his run inside the top-10 turned out to be relatively short-lived, as an incident in turn two, while racing in close quarters with Jeremy Schultz, resulted in Hartmann spinning to stop to bring out the yellow flag.
After restarting 20th, Hartmann gradually worked his way up through the field following cautions on lap 10 and lap 12. On lap 12, Hartmann restarted 17th and utilized the high groove to power around fellow first-year IRA competitors Scott Conger and Preston Ruh, as Jeremy Schultz moved Hartmann back to 16th in the running order on lap 21.
On the final lap, Hartmann made a late charge in an attempt to sneak underneath Dave Uttech for 15th, which fell just short, as Hartmann placed 16th overall in a race won by Danny Schlafer.
"Everything felt good and the car was quick in qualifying, which set us up for a pole position in heat two," Hartmann said. "We made some changes to the car and it felt great to drive. The car was on a rail in the heat race. At feature time, I felt good early on until the incident in turns one and two. Restarting at the back provided challenges getting through the field and we managed to end up 16th."
With seven races remaining in the 2022 IRA season, Hartmann currently occupies the 10th position in the IRA point standings.
The 87A Hartmann Racing team is set to take part in an IRA tripleheader weekend of 410 Sprint Car action starting with the Harry Neitzel Tribute event on Friday, Sept. 2 at the sprawling, half-mile Dodge County Fairgrounds in Beaver Dam, Wis., followed by the annual Sheboygan County Fair Race at The Plymouth Dirt Track in Plymouth, Wis. on Saturday, Sept. 3 and the final appearance of the 2022 season at 141 Speedway in Francis Creek, Wis. on Sunday, Sept. 4.
"I'm definitely looking forward to the three-race weekend we have coming up," Hartmann said. "I think it should be good for us."
Those unable to make it to track can follow all of the Bumper to Bumper Interstate Racing Association 410 Sprint Car Series action throughout the 2022 campaign via FloRacing by visiting https://www.floracing.com.
Additional information on the 87A Hartmann Racing team can be found by visiting the team's Facebook page – https://www.facebook.com/87Ahartmannracing.
The 87A Hartmann Racing team has assembled a strong group of partners in support of the team's maiden voyage with the Bumper to Bumper IRA Series, including Kristine Hartmann of Pleasant View Realty, Shufflebotham Tree Service, Call Girls Motorsports, PalletWorks LLC, AF Inc., Bennett Transport Inc., SCA Inc., Gretchen Tillman New American Funding, Classic Title Services, CP Services, Cobblestone Landscaping, Jensen Sales & Services, Lee's Color Studio, Dave's Fabrication, Racer's Hall Sports Bar and Grill, Feldmann Sales & Service, RC Custom Design, Hepfner Racing Products, Pit Road Apparel, the Bumper to Bumper Interstate Racing Association 410 Sprint Car Series and Sage Fruit.
The 87A Hartmann Racing team consists of Hunter Annis, Eric Bergschultz, Karlee Hartmann, Andrew Shufflebotham, Jarrett Neese, Caitlin Shaw and Kristine Hartmann.
87A Hartmann Racing Sponsor Showcase – PalletWorks LLC
Austin Hartmann and 87A Hartmann Racing are pleased to have PalletWorks LLC on board as a sponsor for the team's rookie campaign with the Bumper to Bumper Interstate Racing Association 410 Sprint Car Series.
Located at N5826 County Road M in Plymouth, Wis., PalletWorks LLC is a wood container and pallet manufacturing company, specializing in packing and crating materials.
To contact PalletWorks LLC, call 920-467-2600.
Pedal Down Promotions is a full-service public relations and media services company devoted to helping its clients effectively communicate with targeted audiences through press releases, newsletters, profile and feature articles, website and social media content development, printed media, editing and layout, graphic design and book publishing services.
For more information on Pedal Down Promotions, email pedaldownpromotions@gmail.com, visit www.pedaldownpromo.com or call 920-323-7970.
Austin Hartmann 87A Hartmann Racing
2022 Season
By The Numbers
Total Events – 19
IRA Events – 17
World of Outlaws Events – 2
A Main Victories – 0
B Main Victories – 0
Top Five A Main Finishes – 0
Top 10 A Main Finishes – 0
Top 15 A Main Finishes – 5
Top 20 A Main Finishes – 12
Heat Race Victories – 1
Dash Appearances – 4
Dash Victories – 0
Austin Hartmann 87A Hartmann Racing
Upcoming 2022 Schedule
Friday, September 2 – Dodge County Fairgrounds, Beaver Dam, Wis. (IRA)
Saturday, September 3 – Plymouth Dirt Track, Plymouth, Wis. (IRA)
Sunday, September 4 – 141 Speedway, Francis Creek, Wis. (IRA)
Saturday, September 10 – Cedar Lake Speedway, New Richmond, Wis. (IRA)
Saturday, September 17 – Beaver Dam Raceway, Beaver Dam, Wis. (IRA)
Friday, September 23 – Dodge County Fairgrounds, Beaver, Dam Wis. (IRA)
Saturday, September 24 – Plymouth Dirt Track, Plymouth, Wis. (IRA)
---
Article Credit: Jeff Pederson-Pedal Down Promotions
Submitted By: Jeff Pederson
Back to News